Cleaning the Dr. JB's Clean Feeder ... in 3 easy steps!

Unscrew bottle from base.
Note:
When using soap to hand wash the feeder or when using a dishwasher, always follow up by rinsing with a mild bleach and water solution before re-filling with sugar and water. Rinse well.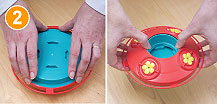 Lay base upside-down on sturdy, flat surface. Firmly push down on opposite sides of outer (red) rim of base. Inner (teal) part of base will "pop" loose. Do Not apply pressure directly to the outer perch.
Dishwashing:
Place all parts of feeder in the top rack of the dishwasher.